⌛ Cliff Notes
Your website has the potential to be your best salesperson
Sadly, most business sites don't live up to expectations
Klicker builds sites that win our clients more business, period
Get a site that pulls and converts prospects 24/7/365. Meet your new #1 salesperson.
Almost every business has a website. The problem is, most of them don't have a website that converts.
Your average business site sits and collects dust, doing nothing to move the needle. No impact on clicks, no impact on conversion, no impact on sales.
In the world of digital marketing, a website that doesn't get ROI just doesn't cut it.
The truth is that your website has the potential to be your BEST salesperson. We're talking around-the-clock leads, 24/7/365. No breaks or vacation days.
The difference between your average site and a Klicker site is like night and day. Let us show you how we build the smartest sites on the web, and let's transform your site into Employee of the Year.
We went into our initial meeting with Klicker hoping to double leads within a year. After 6 months, we were more than 2.5x the leads already and the results just kept getting better and better. Do yourself a favor and hire Klicker ASAP!

Dr. Majeroni
Owner @ Majeroni Ortho
Pixel Perfect Websites 💻
The perfect website delivers your best sales pitch to customers 24/7/365. The secret to our web design process is:
SEO master planning
Mobile perfection
Messaging focus
Built to convert
Far from vanity projects, our clients get websites that drive business.
SEO Master Planned 🖱️
Combined with the right keywords, your website will rank higher and drive more traffic to your business.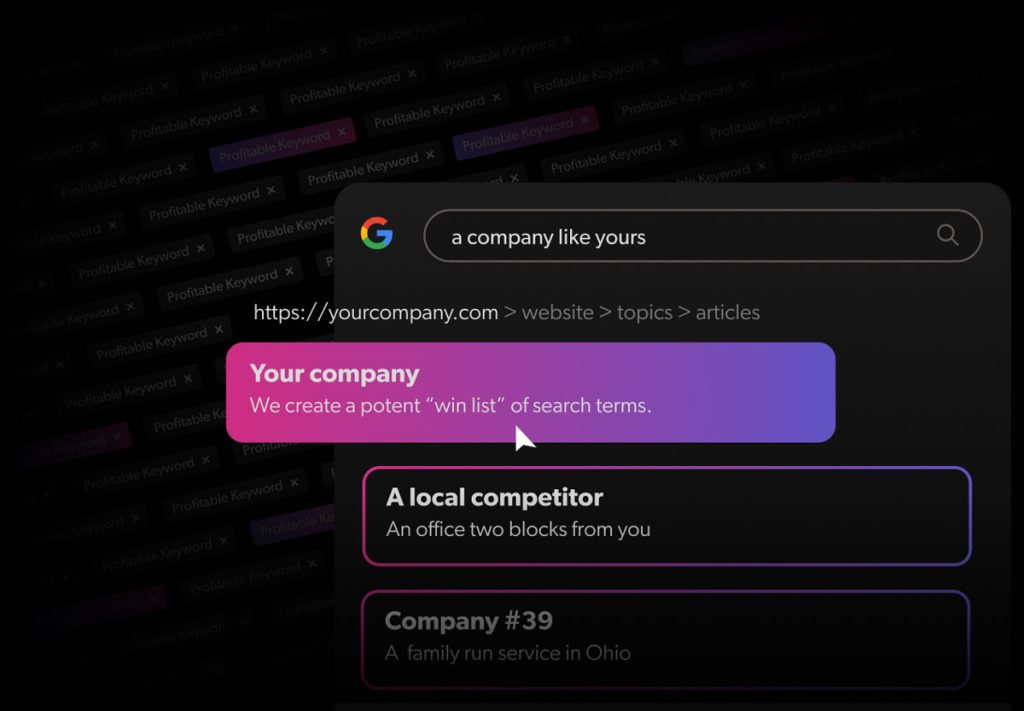 We master plan your site's structure and layout to rank for all of your most lucrative keywords on search engines.
Mobile Perfection 📱
Sites that don't display perfectly on mobile devices are missing out on virtually half of your customer base.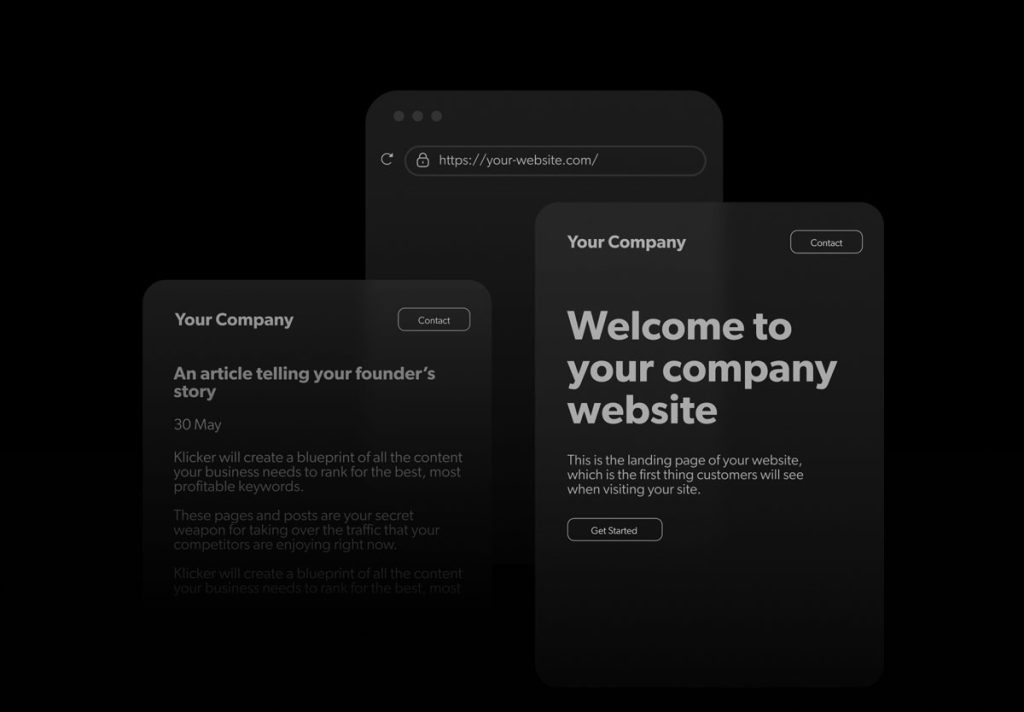 Klicker's websites are designed to look great, load fast, and work as smoothly as a top-notch mobile app.
Messaging Focused ✏️
Most websites are full of fluff and filler. We build sites that deliver a consistent, brand-appropriate experience to your customers.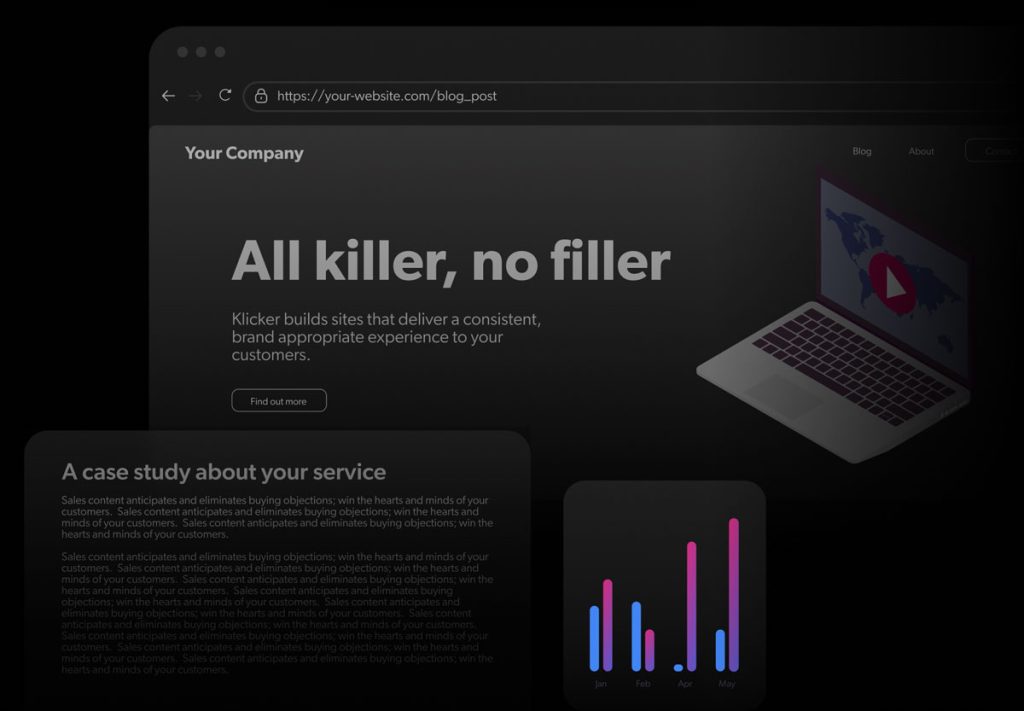 Your site will look and read exactly how your customers imagine it should.
Built to Convert 🤑
The #1 goal of your site is to convert. Every pixel of your new site is designed with the end goal of transforming visitors into customers.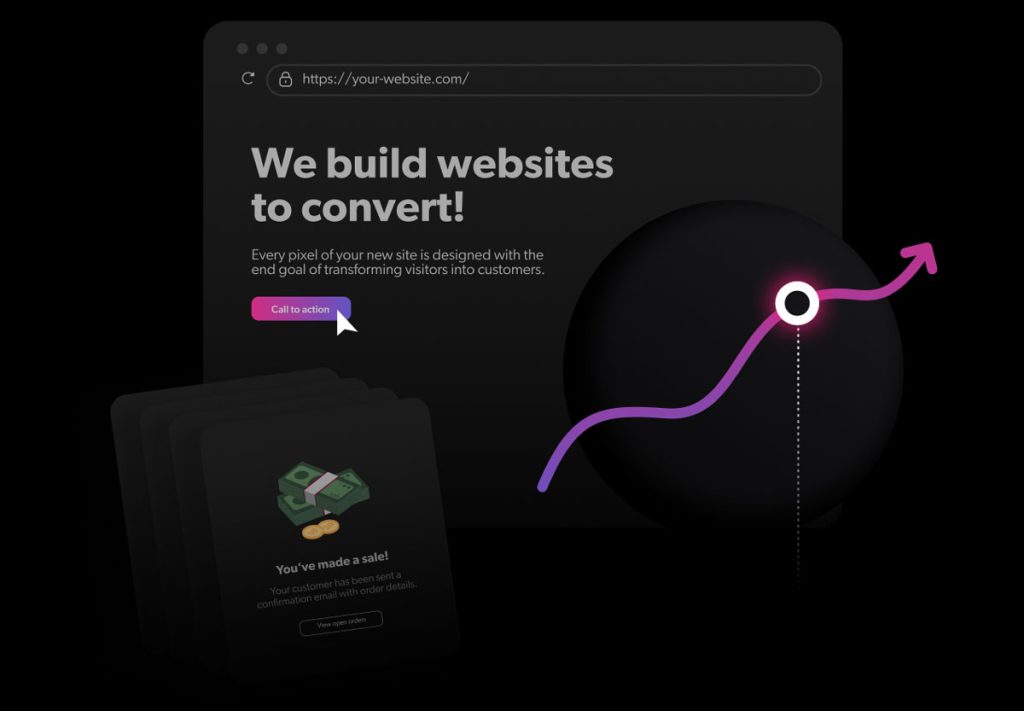 We master-plan websites to sell for your business 24/7/365.
Klicker is one of the most professional and easy to work with bunch of guys you'll find, period. They make our marketing so effortless that I spend literally zero time thinking about it. We just get new cases, that's it.

Darin W.
Attorney @ Glacier Law Firm
Here's what a Klicker site looks like 🖥️
Pixel Perfect Websites need more than just pretty pictures and cool logos. We nail all of the easily overlooked little details that will transform your website into a conversion superhero.
Built to sell
Funnel to CTA Design: Every page on your site will funnel straight to your CTA and contribute to ROI.
SEO Master-Planned & Optimized: Your entire site will follow our SEO master plan to harness and convert traffic.
Built to Influence: We lovingly place every pixel for hypnotic influence—overtly and covertly.
Smart Calls-to-Action: We'll give you a CTA that really gets people to call, email, and eventually buy.
Seamless Form Integration: We build forms so natural they feel more like conversations.
Subliminal Influence: Every pixel of your site is placed to influence prospects to take action.
Action Oriented Navigation: Clean, simple, nonintrusive navigation that guides people right through your sales pitch.
Messaging Focused Design: We build sites focused on messaging. Because ultimately, messaging is what converts.
Built to wow
High-End Energy: Scream "top-shelf" while the competition gives off those thrift store vibes.
Built on WordPress: We take full advantage of WordPress' powerful backend system.
The Best Base Code: We use Twitter Bootstrap as our code framework. Why? Because it's the best, period.
High Quality Graphics: We'll make your site stand out with truly exceptional graphics.
Perfect Blog Integration: Fully integrated blog design, transforming your articles from an afterthought to a centerpiece.
Sex Appeal & Personality: We'll make your site ooze the emotions that inspire prospects to take action.
App Quality Mobile Experience: Everyone can do mobile design. Very few can "nail" the feel of a butter-smooth app.
We build sites that make your competitors lose sleep at night.
We were pretty close to abandoning our digital marketing campaigns because they just weren't bringing in leads. Klicker changed our tune within months—now we're so busy with new leads that we had to hire extra help.

Dr. Jones
Owner @ Cascade Surgery
Here's what you get with Klicker Websites 🔥
Your web building campaign comes complete with everything your business needs to dominate:
ROI centered, results focused campaigns
Transparent, honest, weekly reporting
Elite, top-shelf marketing talent
In-house, proprietary processes
Seamless SEO integration
Every pixel has a purpose
Smooth, app-like experience
Beautiful, top-shelf look and feel
Built to influence and convert
With our web development campaigns, you can watch your site transform from "blank slate" to "masterpiece" in no time flat.
Frequently Asked Questions 🤔
Why is Klicker the best website marketing agency?
We have years of experience with website development. We know exactly how to build sites that get you ROI. Clients love us because we take underperforming websites and transform them into conversion machines.
Why do most sites fail?
There are dozens of reasons. The root cause of failed sites is that they're not designed to convert. That could mean a bad SEO plan, long load times, poor design elements, confusing navigation, incoherent messaging, or dozens of other issues.
What's the secret to a great site?
If sites fail because they don't convert, then a great site must be one that converts. And because a single factor can cause a site to fail, that also means you have to nail every pixel to make your site a real conversion king.
How will I know what's going on with my campaign?
Our team is all about transparency and open communication. Because we're always working on your business, that means we've usually got something cool to report, too. Clients love our weekly progress reports, and we're always ready to chat whenever you want.
Are you only a marketing agency website developer?
Nope! Website development is an important aspect of digital marketing, but it's not the only weapon you need for digital dominance. We also excel at local, organic and paid search, content and brand development, and drip, email and re-marketing campaigns.
What does Klicker's typical web development process look like?
That depends on your specific business. Your website will be heavily influenced by your brand (which we'll also be working on), as well as our SEO strategy for your business. These steps go hand-in-hand to create a website that really converts.
What kind of businesses do you work with?
Klicker's website design philosophy works best with small and medium sized businesses. We get the best results for clients like surgeons, startups, dentists, lawyers, orthodontists, SaaS companies, etc.
What is a "Klicker Website," in a nutshell?
A "Klicker Website" is a site that's been master planned so that every pixel has a purpose. Your site's sole reason for existing is to convert, and we design and build your site with that philosophy in mind.
What's Klicker's marketing process like?
Our team operates in three stages—getting you more traffic, more leads, and more sales. We also iterate and improve on each of these stages over time, meaning we'll regularly be improving your website for better and better ROI.
What will a "Website that Converts" look like for my business?
A website that converts is a website that is purpose-built for your ideal audience. We create sites that influence prospects to convert. We give your customers a smooth, on-brand experience that makes it easier for them to buy.