⌛ Cliff Notes
Consumers are 131% more likely to buy from your brand after reading your content
But, people nowadays are less likely to fall for cheap marketing tricks
People only click, read and buy from charismatic content
Rank higher. Crush sales objections. Amp up your brand. This is what great content looks like.
Consumers are 131% more likely to buy from your brand after reading your content.
The problem is, people nowadays are well-informed. They don't fall for the same cheap marketing tricks of the past.
Attention spans are shorter. Lifestyles are busier. Competition is fiercer.
Your content has a razor-thin margin of error for getting read—and getting you customers.
Solution? Provide value.
Well, Content with Charisma gives you pure value.
Our content:
Ranks higher to get you more leads
Builds your brand and builds trust
Annihilates sales objections every step of the way
Customers will want to read your content. Isn't it finally time to get some ROI from your writing?
Klicker Content Converts 🤑
Conquer the search rankings and win the hearts and minds of your customers. We write to win at every stage of the buying journey:
Search boosting content
Pre-framing sales objections
Brand building content
Search Boosting Content 📈
Keyword-centric content is built for search engines like Google. These pieces help you rank higher and attract more customers.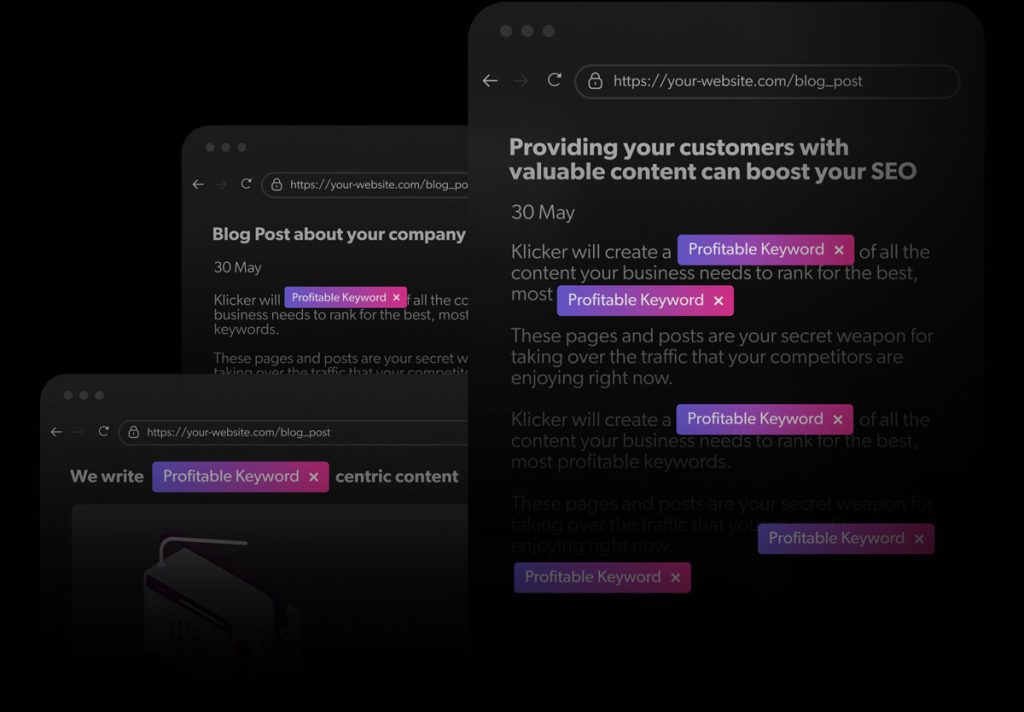 But this isn't junky "SEO" content—it's still designed to be appreciated by your customers, too.
Pre-Framing Sales Objections 💭
Sales content anticipates and eliminates buying objections. We work with your sales team to develop pieces that will make your sales process easier and more efficient.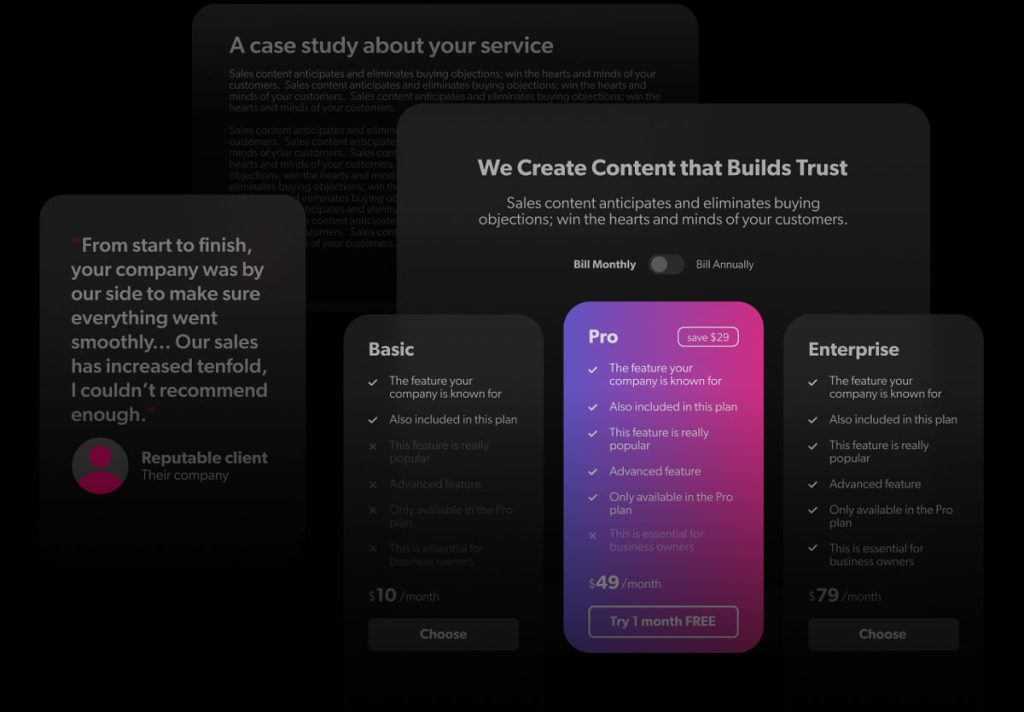 Sales content delivers pure ROI for your business.
Brand Building and Messaging ✏️
Our brand-building content will transform your business into a winning brand. We'll help translate your story to customers, differentiate you from competitors, and drive home your brand messaging.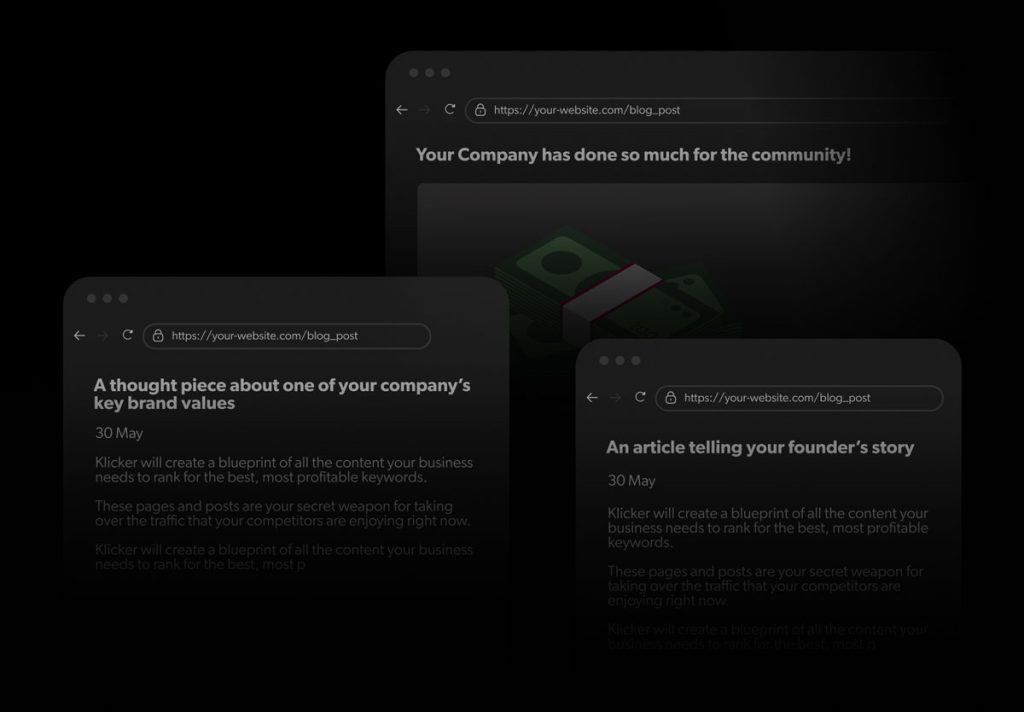 This is the "secret" big businesses don't want you to know.
Klicker is one of the most professional and easy to work with bunch of guys you'll find, period. They make our marketing so effortless that I spend literally zero time thinking about it. We just get new cases, that's it.

Darin W.
Attorney @ Glacier Law Firm
A-to-Z Content Creation ⌨️
Getting more ROI out of your content—that's what we're about. We plan, brainstorm, create and build every piece of content your business needs to dominate digital marketing.
Content Strategy: You'll find out exactly what kind of content your business needs to dominate.
Headline Bank: We'll write you a cache of winning headlines. You'll get to pick your favorites.
Content Calendar: We'll fully plan out your business' writing and posting schedule for nonstop influence.
Content Outlines: We'll merge your industry expertise with our writing talent to flesh out every post.
Writing: Get total execution of your writing plan. We build every piece of content your business needs.
Publishing: Get your posts formatted perfectly, looking great, and going live. Totally hands-free.
Every piece of content we develop serves a purpose. No fluff, no filler.
We went into our initial meeting with Klicker hoping to double leads within a year. After 6 months, we were more than 2.5x the leads already and the results just kept getting better and better. Do yourself a favor and hire Klicker ASAP!

Dr. Majeroni
Owner @ Majeroni Ortho
Content Developed for Every Step of Your Buyer's Journey 💯
Capture potential buyers at every stage of the buying cycle with Charismatic Content. We develop content to:
Grab attention, both from search engines and potential customers
Provide information and build interest
Help prospects evaluate and create desire
Drive prospects to take action (calling, filling forms, booking appointments)
Foster relationships with customers and clients post-sale
Hook prospects who "escape" your sales funnel
Your new content plan will create a thriving marketing ecosystem designed to do one thing–get you more leads.
Best experience hands down! We've worked with a few marketing agencies and affiliates over the past 5 years and Klicker is the best by a mile. Great communication, incredible results… I highly recommend Klicker!

Jay R.

CMO @ PuppySpot
What You Can Expect with Klicker Content 💪
ROI centered, results focused campaigns
Transparent, honest, weekly reporting
Content A-to-Z, from strategy to publishing
Elite, top-shelf marketing talent
In-house, proprietary processes.
Seamless SEO integration
Crushing sales objections preemptively
Standout brand building through content
Open door client communication
Frequently Asked Questions 🤔
Why is Klicker the best digital content marketing agency?
We have years of experience with content creation. We know exactly which pieces of content will benefit your business most. Content must build your brand, destroy sales objections, or build your search rankings. Everything else is fluff.
Why do most content campaigns fail?
Many people think that writing is the same as content marketing. The truth is that having a blog or a landing page aren't enough by themselves. The biggest factor in failed content campaigns? Lack of purpose. Every piece must have a goal.
What's the secret to "charismatic" content?
Most content campaigns fail due to lack of purpose. The same is true for individual posts, pages, etc. We don't want to waste your customers' time. We write every sentence with a goal in mind—branding, SEO, or sales.
How will I know what's going on with my campaign?
Klicker is big about transparency and open communication. We're always working on your business, and that means we've usually got something to show you. Our clients love our weekly progress reports. We hope you do too!
Are you only a content writing agency?
Nope! Content creation is a weapon in your digital marketing arsenal, but it's not the only piece you need to succeed. We also excel at organic, local and paid search, brand and website development, plus drip campaigns, email marketing and re-marketing.
What does a typical Klicker content campaign include?
Exact pieces and types of content vary by client. It depends on what we think will work best for your business. Clients often get a totally rebranded website, local and niche landing pages, and blog posts.
What kind of businesses do you work with?
Content with Charisma is tailored to small and medium businesses. Our current clients are local businesses like orthodontists, surgeons, lawyers, dentists, and even startups—the businesses for which we generate the best results.
What exactly is Content with Charisma?
Content with Charisma is an A-to-Z blueprint for marketing content that actually gets you ROI. From brainstorming to writing to publishing, we create every piece of content your business needs to dominate online.
What's Klicker's marketing process like?
We operate in three stages—increasing your traffic, increasing your leads, and increasing your sales. Content creation is part of stage two—leads—but well-written content will eventually help you get more traffic, leads AND sales.
What will "Content with Charisma" look like for my business?
Standard marketing copy is annoying. It forces itself into the lives of your customers. It wastes their time. Your customers want to read charismatic content. This is content that delivers exactly what they want. No filler, no fluff.